Quality Matters & You Have Choices: Ulta Labs, Doctors Supplement Store & More
How To Order Lab Tests & Gemmos & Supplements*
ORDER TESTS FROM ULTA LABS
Save 50% on our Most Popular Test Panels. Order low cost blood lab tests online. No prescription needed. Save up to 50%. Confidential results in 24-48 hours in most cases. Labs conveniently located near you. Lab tests as low as $12.95. Start here.
ORDER FROM DOCTORS SUPPLEMENT STORE
Doctors Supplement Store carries HerbalGem gemmotherapy (plant stem cells) products, Hyland's Tissue Salts, Boiron and other trusted brands. Save 10%-off your first order using this code HCPC937WELCOME. Free shipping for orders over $49. Sign-up for Autoship and receive free shipping and 5%-off after your initial enrollment. Expect great service. Start here or call in your order 877-846-7122, Option 1 (8am to 6pm CST). Download instructions.
ORDER YOUR SAUNA
Treat yourself and your family. Nothing feels nicer than to relax in full-spectrum infrared heat and light therapy sauna from SaunaSpace. Portable saunas that are easy to assemble, kits to convert your closet or shower to a sauna, photon light, and hyperOxy Ozonated Olive Oil. Taking a sauna regularly helps facilitate detoxification, enhance physical performance, increased mental performance, and skin rejuvenation. 100 day home trial. Split payment options.  Watch the video.
ORDER FROM FULLSCRIPT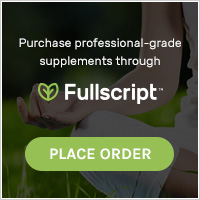 Some supplements and other products are appropriate to order on your own. Here are two resources I have set up for you at 25%-off retail. While you will find many items at both sites, there are some items that are only available form one or the other. Click here to begin. Free shipping for orders $50 or more.
ORDER FROM WELLEVATE
If you choose to order from Wellevate you will receive 20%-off retail price and free shipping on orders totaling $49 or more.
Click here
to begin, or
contact Myra
to receive a no-obligation invitation to signup for a Wellevate account or if you have any questions.
*NOTE: Some products need to be ordered directly from the office. Ordering homeopathic remedies, plant stem cells, etc.
What Our Clients Are Saying
Myra Nissen is an amazing homeopath. I have been working with her for several months and I am amazed with the results. I had all but given up on homeopathy as I have been trying it on and off for years. Sometimes it worked and sometimes it didn't and I never had any real luck…
Read More